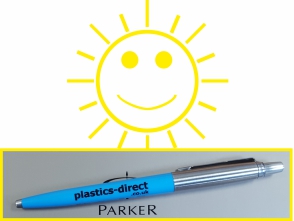 Fee Parker pen with orders over £50 ex. VAT
We would like to put a crafty smile on our customers' faces this summer.
We are delighted to say that we'll be sending a free, gift-boxed, Parker Jotter Ballpen with every order received over the value of £50* between now and 31st August 2017.

Our elegant and desireable pens are in limited edition, cyan blue and come presented in a gift box to you our valuable customers.

Parker pens are renowned for quality, so we've aligned ourselves with this brand to thank our quality clients!

Remember to top up your basket to £50 this summer, excluding UK VAT, to secure your ballpen while stocks last.

* Free pens available in the UK only to customers spending over £50, including free delivery, (ex VAT). Offer ends at midnight on Monday 31st August 2017.