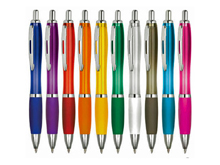 The latest offering from the Ad-Options range is CurvyContourPens.co.uk
Another new site has joined the Ad-Options business gift empire as we go live at CurvyContourPens.co.uk.

Our best-selling pen is bold and beautiful in a wide range of colours, with an unusual barrel shape to give it great character, and a very generous print area to give your brand maximum exposure.

The new site offers you the chance to see the wide range of style available in a detailed product guide and gallery, while there is also plenty of information on how people make the most of the curvy contour ballpen via our regularly updated blog.

You can also track the products progress via social networking as it now features on Facebook and Twitter.