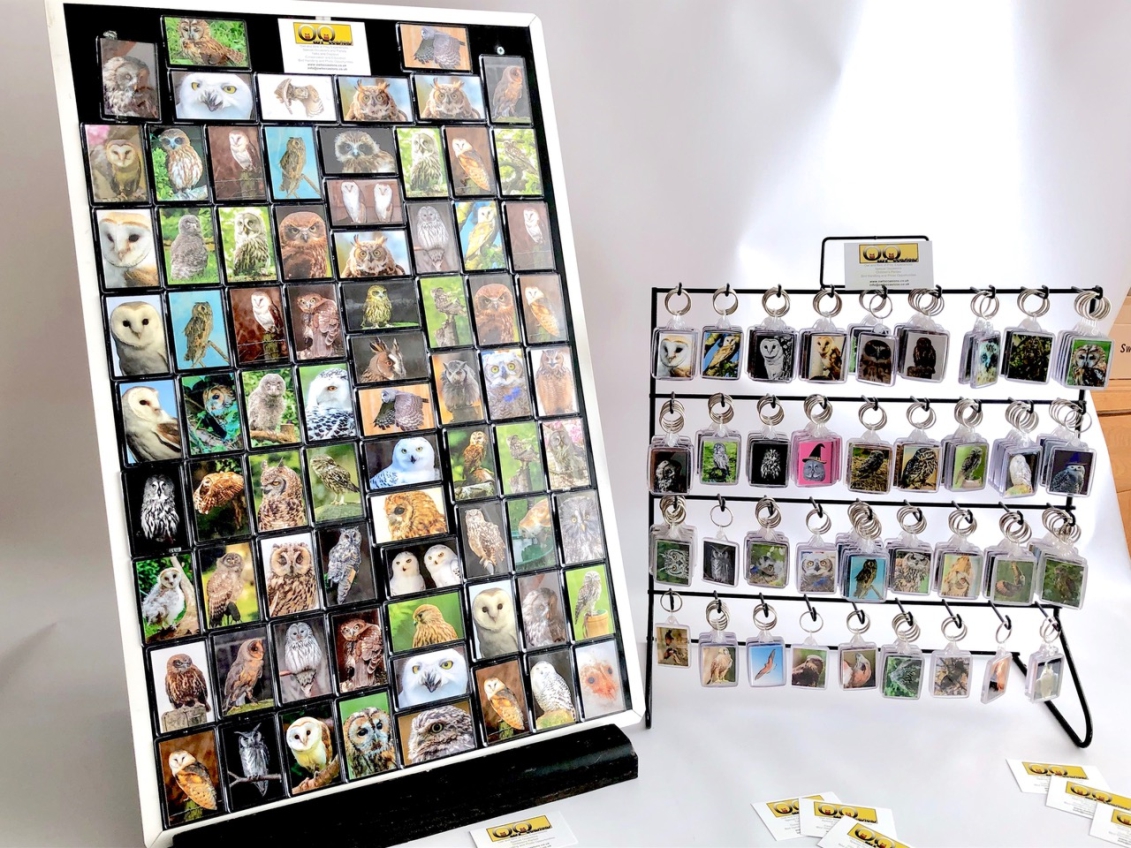 Case studies show the effective use of UK made, clear acrylic, promotional gifts
Personalised keyrings offer a unique, cost-effective way to build rapport with clients, associates or a target audience.
Easily customised with photographs, images or a brand message, clear acrylic products are versatile and great value for money. Whether they're used to advertise a brand, for a personal gift or as a business giveaway, they help build relationships and make your brand or message memorable.
Here are five case studies that illustrate how our clients have benefited from such a versatile and inexpensive promotional product.
1. Owl Occasions
David Knowles first started to use personalised products to promote his small photographic business. He now uses them for Owl Occasions, his entertainment and educational business, based around owls. He sells business keyrings alongside fridge magnets, with picture inserts of owls and other birds of prey, at educational talks and local events.
David runs Owl Occasions because of his love of teaching with his three owls, his university talks and his mission to promote the conservation message to schools and groups such as Guides and Brownies. He sells his personalised gifts for £2.00 each so that they are affordable to children.
David has kindly provided us with some superb images that demonstrate how effective these gifts can be.
Benefits
• Engagement with audiences of all ages
• A memorable product that will remind buyers of a fabulous experience
• Profit that contributes to keeping a small, niche business trading
Our client said…
"I like your company as a supplier as the products and prices are good, with rapid delivery of items which suit my needs."
2. Springfields Fuels Ltd
Springfields Fuels Ltd is a nuclear fuel production installation in Salwick, near Preston. Springfields regularly buy two blank keyring types to tag equipment and safety mechanisms at the operating plant. They came to us having previously ordered through a third party who added extra charges and weren't as reliable with deliveries.
Springfields find our website easy to navigate, with a simple ordering procedure. They consider the clear acrylic keyrings to be excellent quality and, with the inserts, provide crucial visibility to engineers, thereby fulfilling the purchasing brief.
Benefits
• Operations and Health and Safety solution
• Value for money
• Ease of ordering with speedy deliveries
The client said…
"BlankKeyrings.co.uk are the supplier of choice if you need items urgently."
3. WaggyDogz
WaggyDogz came to us because they wanted to expand their range by adding to their successful print products. They identified blank products as ideal because they could be made to order using their own printed inserts, and they would therefore not be left with unwanted stock.
We were able to offer a competitive price and provide a better service than WaggyDogz's previous supplier. WaggyDogz are also pleased to be dealing with a British company.
Benefits
• Quick and reliable order fulfilment from a British company
• Manageable stock due to product personalisation
• Ideal complementary product to an existing range
The client said…
"Steve, Ann and the team are efficient, provide high standard products and provide good customer service."
4. Excel Estate Agents
Excel Estate Agents wanted a cost-effective product that would promote the company by giving customers a branded gift they would see and use on a regular basis. They approached us and discovered we could offer clear acrylic items at a competitive price.
From the first delivery, the business keyrings have met their needs, and they now order regularly.
Benefits
• Regular brand promotion
• Efficient service
• Very successful - business objectives met
The client said…
"BlankKeyrings offer an efficient service and a quality product that is great for our purpose."
5. Margaret Carr
Margaret Carr sells, on average, 30-40 keyrings a month which shows that they can be bought in small quantities and still be successful fundraising items.
Margaret wanted to use her photographic skills to produce small souvenirs to raise money for the local church. She inserts the blank items with local landmark photos for St. Peter's Church in Heysham. Sold from the church hall tearoom, the gifts are popular with visitors. Margaret also receives bespoke requests for new photos.
She recommended the idea to a friend at Higher Walton Church who also wanted gifts for the church to sell. Other keyrings sold to a friend went as far as the USA as a gift.
Benefits
• Small orders easily accommodated
• Cost-effective, providing a profit for a small venture
• Fundraising for a local cause
The client said…
"I'm a returning customer, due to successful sales of my finished products. BlankKeyrings are top choice as they are local(ish) and have provided a great service."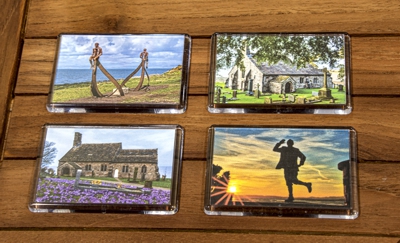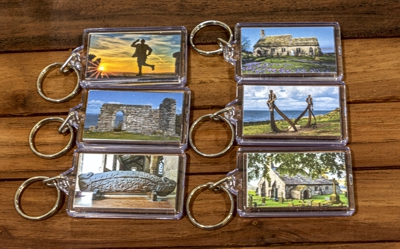 Get in touch
These five case studies illustrate that even though each customer's objective is unique, the versatility and cost-effectiveness of personalised gifts delivers great results.
If you would like to know more about our range of blank promotional products and how you can personalise them, take a look at our website, or call 01772 429110 and our team will be happy to help you.