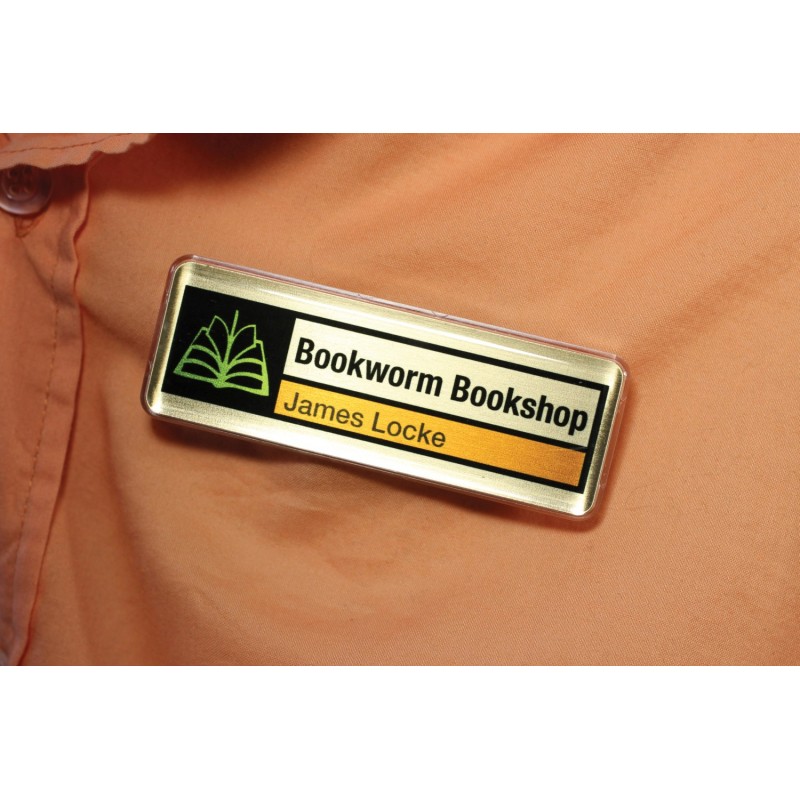 Make your own professional ID badges to help your business communicate.
Wearing a name badge at corporate events instantly breaks down barriers, creates a professional image and increases brand awareness.
Imagine being in a room of people you don't know, as often happens in business. Those wearing a name badge, or a personalised lanyard, instantly appear more approachable than those that aren't. It's as if a conversation has already begun, so you are naturally drawn to speak to them. Whether it's at a networking event, conference, trade show or in a showroom, a badge acts as an introduction.
The good news is that purchasing smart, professional badges for you and your team can cost as little as 20p each. At BlankKeyrings.co.uk, we supply a range of blank plastic ID badges, blank button badges and lanyards, ready for you to create your own personalised products.
Blank badges are versatile and great value for money
Blank plastic badges are available in a range of sizes and options, ready for you to personalise with your own printed name, logo or image. This is what makes them so versatile, and such good value for money. BlankKeyrings.co.uk can process and deliver orders very quickly, when needed. David Dunwell of Blackburn Rovers Community Trust was delighted that we were able to turn his order around in such a short space of time, "The badges have just arrived via TNT in perfect time. Many thanks for the quick turnaround."
The standard ID badge and its larger counterpart are your basic blank name badges with a pin, ideal for conferences, exhibitions, retail and showrooms. They're hard wearing and easy to assemble. It is estimated that it should take 12 seconds to create the final, personalised ID badge with your insert of choice.
The popular round button badge is often used for other applications, such as a promotional giveaway for a fundraiser or as a souvenir. By personalising a blank button badge with a chosen image or message, you create a promotional item that can be changed many times for different campaigns or events.
A personalised lanyard is ideal for daily use around the workplace, or at an event. It's very straight forward to assemble with a personalised insert, and you can modify a lanyard for different events or for a different user. If you're looking for a lower cost option, the PVC Lanyard pouch will tick the budget box.
For companies requiring up to 10 ID badges, the simple-to-use Mighty Badge Starter Kit creates smart, professional badges with magnetic fasteners. By using the supplied templates, each of the 10 badges can be changed 8 times.
The benefits of personalising blank plastic badges
Along with the versatility and cost-effectiveness of personalising blank plastic badges, there are many practical benefits to be gained:
• Easily personalised and assembled
• Consistent branding
• Professional image
• Quick order process and turnaround
• Can be re-used
• Choice of formats (pin, magnetic, lanyard)
• Low minimum order quantity
• Low stock holding
• Free shipping
Order your custom badges online
If you would like some advice on the best badge solution for you, the BlankKeyrings.co.uk team would be happy to talk through your requirements and suggest the best options. Please do get in touch on 01772 429110, or at sales@blankkeyrings.co.uk