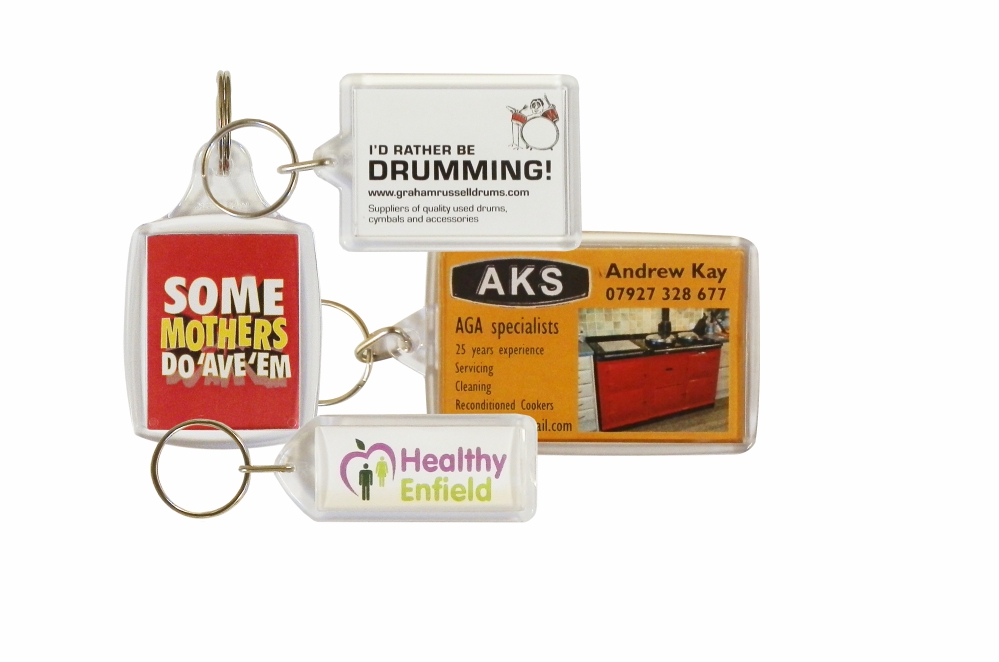 Clear acrylic key rings for flexible, low cost promotions
Promotional keyrings are favoured by many businesses in the UK to promote brands, products and services. Businesses are always on the look-out for innovative ways to promote their brand, yet the branded keyring for promotions still packs a marketing punch.
How do keyrings work as a branded promotional item?
Plastic keyrings are cheap to buy, easy to customise and remain in circulation for a long time. Bought blank, businesses insert photos or images, either one or two-sided, into the blank keyring, thereby transforming a low-cost product into a personalised, bespoke gift.
What are the benefits of these keyrings as company merchandise?
Inexpensive to give away
Ranging from the most popular at just 10pence each to the 90p metal keyring, the promotional keyring is an affordable business gift that offers an impressive return on investment. Building business relationships should be at the heart of any marketing strategy, and a promotional keyring is an inexpensive way to break the ice when approaching potential new clients.
Fully customisable
By printing and inserting a chosen image, businesses can make each promotional keyring or key fob a bespoke corporate gift. This minimises unwanted stock and provides the opportunity for targeted marketing. Assembly takes around 10 seconds, so the process is not time-consuming.
Available in shapes appropriate to the business
Estate agents can request bespoke promotional keyrings in the shape of a house, a car hire company can request keyrings in the shape of a car, a football club can request keyrings in the shape of a football kit, and so on. Changing the shape of a promotional keyring adds value, is distinctive and promotes a brand more effectively. We have a wide range of custom shaped keyrings for you to select from.
Built to last
UK manufactured promotional keyrings are made from clear acrylic with smooth curving edges. This makes them highly durable and able to withstand the rigours of packed handbags and being thrown onto a multitude of surfaces.
A practical gift, not just a gimmick
The trick with promotional products is to choose one that is useful and therefore has longevity. We all use keys every day, whether they be house keys, car keys, office keys and so on. The details of a business promoted on a promotional keyring will be seen several times a day. It's all about exposure, and these keyrings (or key fobs depending on your preference) take some beating. That's why they are a UK best seller, with thousands being sold by BlankKeyrings.co.uk every week.
Find out more about our promotional keyring range
There is a wide range of branded keyrings for promotions available from BlankKeyrings.co.uk. Take a look at our keyrings, or contact the team on 01772 429110.