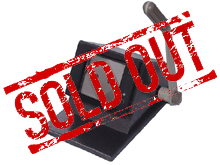 Desk cutters close to a sell out
Our range of desk-based cutters have proved increasingly popular of late, meaning that it's worth checking our stock levels before placing an order on three particular cutters.
The desk-based range - with handles - are coming under the greatest demand, with the CT9060 already sold out, and supplies of the CT9090 (coaster shaped), S-Tee (t-shirt shaped) and S-Heart (heart shaped) cutters all running very low at our wholesalers.
As a result, we advise that anyone looking to purchase a cutter from this range should call us on 01772 435010 before committing to a credit or debit card payment online to avoid disappointment and hassle.
All of our hand-held cutters remain in good stock, so customers can continue to order these online in confidence, though don't be surprised if they too start to become increasingly popular ahead of the busy Festive season.