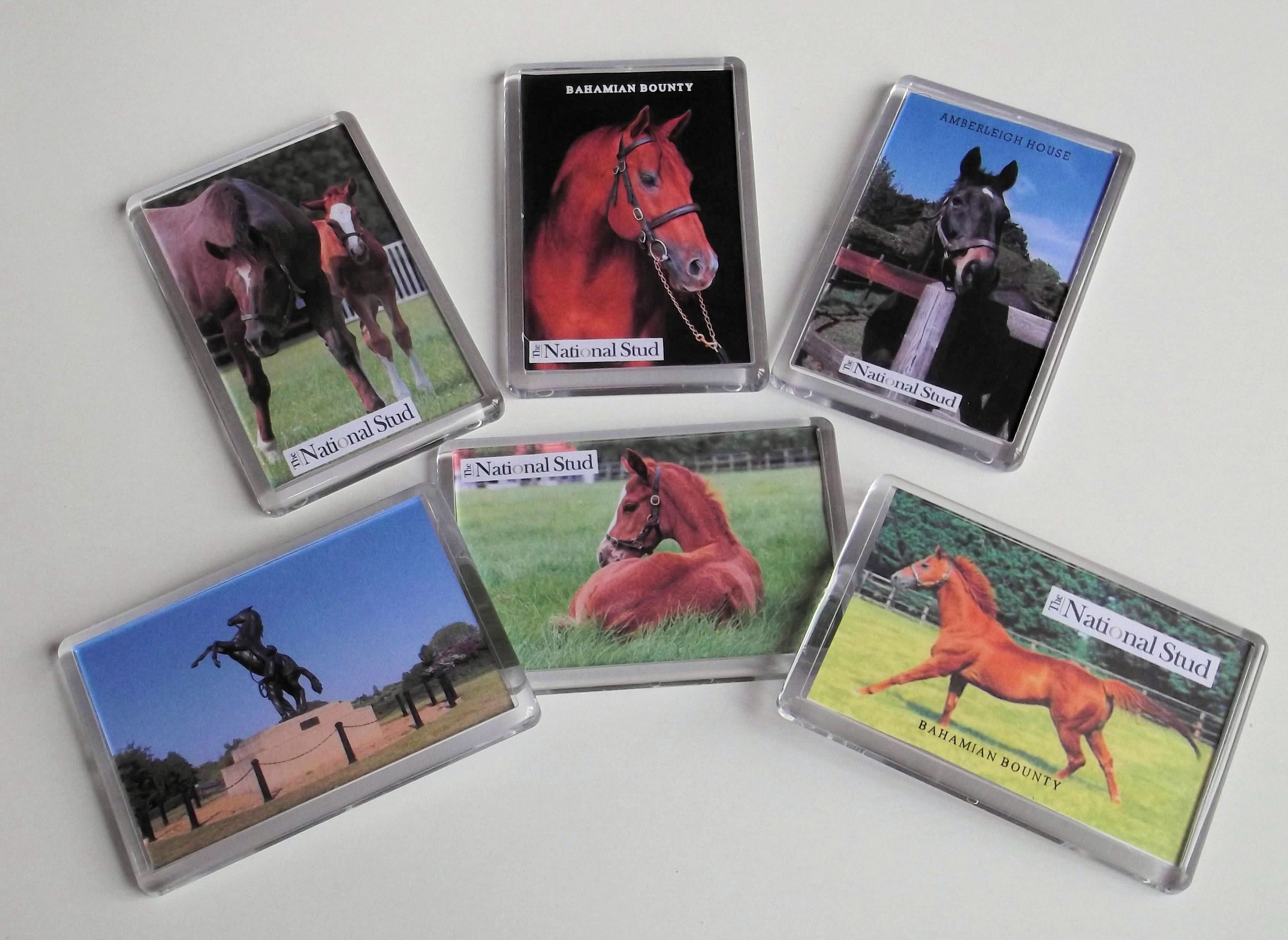 Supplying blank fridge magnets for horse racing enthusiasts
Blank Keyrings are delighted to be the official supplier of customisable photo fridge magnets to Calypso Cards in Newmarket since 2014.
Calypso insert horse racing and horse breeding photographs into the blank fridge magnets to create gifts and memorabilia. These are sold at various horse attractions and events including The National Stud, Tattersalls Horse Sales and the National Heritage Centre for Horseracing and Sporting Art. Calypso Cards have benefited from buying blank fridge magnets in bulk to obtain a competitive price.
Bespoke personalised fridge magnets
They have the flexibility of deciding which photograph to insert into each blank fridge magnet, making it a bespoke product, thereby removing the risk of holding unwanted stock.
Barbara Mitchell of Calypso Cards has found the cost-effective blank fridge magnets to be a huge success with customers. She also buys blank keyrings, coasters and rulers for the same purpose.
I have always bought my blank products from BlankKeyrings.co.uk and cannot speak highly enough of their service. Deliveries are always very quick, and the customer service is excellent. I would not dream of purchasing from any other firm.
The blank fridge magnet bought by Calypso Cards is supplier BlankKeyring.co.uk's best-selling fridge magnet PR0005 that measures 70 x 45mm. It is a UK product made in Blackpool in a nil-to-landfill factory, therefore avoiding the environmental impact of import transportation.This is a quality clear acrylic product that is easy to assemble. Inserting a picture into the blank fridge magnet takes approximately 10 seconds.
Additional Blank Promotional Services
BlankKeyrings.co.uk supply a printing and cutting service if the customer is pushed for time or resources. Full colour, digitally printed inserts for all blank insert products, with square or rectangular print areas, can be produced by the BlankKeyrings team. The cut inserts are supplied for the client's own assembly. Alternatively, BlankKeyrings.co.uk can provide an assembly service for any inserts that they have printed and cut.
Benefits of ordering blank fridge magnets from us:
The product
A quality, affordable product
Customisable to suit specific needs
Quick assembly
UK manufactured
Competitive prices through bulk orders of only 25 and above
The service
Speedy delivery of 1-2 days for blank fridge magnets

Attentive and personal customer service – speak to real people in the UK

Choice of add-on services or self-assembly

Part of a range of blank products including keyrings, coasters and rulers

Lead time of 5-7 days for assembled, printed and cut inserts
For more information on personalised, memorable products like the blank fridge magnets and the full blank product range, go to Blankkeyrings.co.uk or contact the team on 01772 429110.