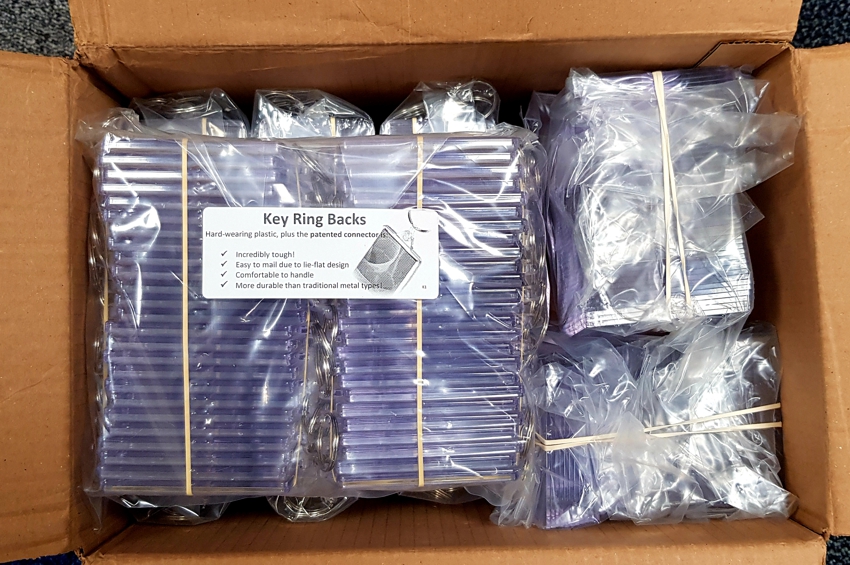 Buy UK made blank key rings and fridge magnets to create your own gifts and promotional products at wholesale value prices.
Buying blank keyrings in bulk gets you a better price for a promotional product that is already great value for money. Going direct to a wholesaler is not only cost-effective, it cuts out a third party, thereby expediting the order process.
Promotional gifts are tasked with breaking the ice, increasing brand awareness and maintaining business relationships. Blank keyrings have always ticked all these boxes which is why they continue to be a best-selling promotional gift for UK businesses.
Five benefits of buying keyrings in bulk
1. Blank keyrings are cheap to buy in large quantities
BlankKeyrings.co.uk's best seller, the P5 keyring, costs just 10p each for an order of 6,000.
2. No unwanted stock
Because blank keyrings are customisable by simply inserting a photo, they are ideal for buying in larger quantities. One delivery of keyrings can be used for a variety of promotional campaigns
3. Quick order turnaround
Such is the demand for blank keyrings, that wholesalers will always have stock available
4. Speedy delivery
Wholesalers have the resources to deliver bulk keyrings or key fobs quickly across the UK
5. Personal service
Buying from a wholesaler, rather than online retailers, builds trust through which the purchaser enjoys a much more personal buying experience
Customising keyrings creates targeted promotional gifts
The beauty of buying blank keyrings (sometimes called clear acrylic keychains) in bulk is that you benefit from the low cost of large quantity orders, whilst creating a personalised promotional gift for targeting potential and existing clients.
Inserting a photo into a blank keyring takes approximately 10 seconds so there is flexibility to customise the keyrings whenever, and for whatever, they're required. They can be given to potential clients as part of a promotional pack, or at expos or networking events.
Customised blank keyrings are also ideal for existing clients as a reminder of the products or services available for them to buy. Likewise, wholesale blank keychains are an eye-catching alternative for customers looking for a product that offers that little bit extra.
Not just a gimmick
Blank keyrings are perfect for building brand awareness because we all use keys on a regular basis. Branded keyrings that started off life as blank products are seen several times a day which means considerable exposure for the brand.
Each household can have several sets of keys, as can businesses, so placing large orders for blank keyrings makes perfect sense to reach an extensive demographic of potential buyers.
Order direct from the UK's leading supplier of blank keyrings
To view the extensive range of keyrings, visit our promotional keyrings website or contact us on 01772 429110 or at sales@blankkeyrings.co.uk for more information.